Breaking down the Connex inventory sync and how it works.
Is there a demo?
Here is a demo:
How It Works
Here is a sample scenario:
After purchase orders or inventory adjustments, QuickBooks has inventory items with a quantity on hand. In this example, QuickBooks has an item called "redwine" with a quantity on hand of 20.
Connex queries your e-commerce solution for new orders.
These orders are inserted into QuickBooks. Each order will decrement inventory in QuickBooks.
The new inventory is the current amount (20) minus what was ordered (5). If there was one order for 5 redwine, you now have 15 bottles in QuickBooks.
Connex queries QuickBooks for recently modified items. An inventory adjustment will update an item, so it will be returned in this query.
Your e-commerce solution will be sent the new number (15) associated with the affected item "redwine". If the QuickBooks item name and the SKU match, then your e-commerce solution and QuickBooks have the same inventory.
Delay
There will always be a delay between QuickBooks and your website. The delay's length depends on several factors:
If you have less than 60 updates, the sync should end in 1 - 2 minutes. There is no delay, after running the web connector.
How often does the sync run?
How many orders are there to insert into QuickBooks?
How many items have been updated in QuickBooks?
How long does your website take to update the items?
If you have more than 60 items, Connex downloads those items into a queue. The QuickBooks Web Connector must send the updates in 2 minutes or the sync will fail. To prevent failure, Connex places those items in a database and performs the updates later. The queue is located under settings > pending. Here is an example: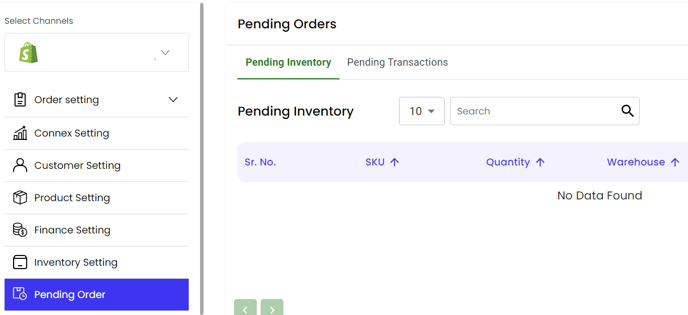 Once the queue is processed, Connex will delete all of the items.
If you click scheduled tasks, you will see a task called inventory:

In a few minutes, the task should begin. Ignore interval; if Connex sees more than 60 items the sync will run ASAP. Connex will sync 800 updates in a batch one by one. The sync could take upwards of 30 - 60 minutes to complete.
Return to Connex. Scroll down to successful inventory updates. You should see activity.
Returns
If you make a refund receipt or credit memo in QuickBooks, the quantity on hand for the item will increase. This new stock will reach your website.
Where do I see successful syncs and why syncs failed?
Log into Connex. On the dashboard, scroll down to inventory. You will see a list of SKUs and whether they updated. If the sync failed for a SKU, the log will show details. The most common reason is mismatched SKUs. For a more detailed log, click logs on the left.
Here is a log of successful syncs: