Connex can add sales tax as a line-item called "SalesTax" to each transaction.
Introduction
This is enabled by default and useful if:
Your tax rate changes, based on roof top location. QuickBooks tax codes are ideal, if you mapped by county or state.
You use a third-party service, like Avalara, to manage sales tax and managing tax in QuickBooks is redundant.
How will it affect my books?
In QuickBooks, go to reports. Next, click company and financial, then click balance sheet standard. You will see the sales tax payable: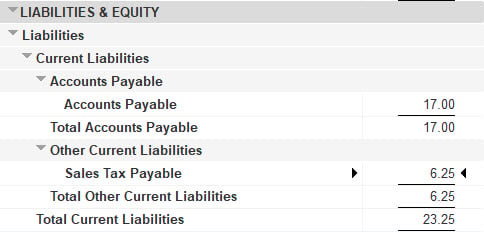 How do I enable this feature?
Login to Connex.
Click Settings of the Selling Channel.
Click Sales Tax.
Click Add Tax as a line item to enable this feature.
Finally, click Save Settings.

What does it look like?
Here is an order using the sales tax item as an item of type sales tax:
What if I have tax codes in QuickBooks and wish to map them?
No problem! You can easily map existing QuickBooks desktop sales tax codes within Connex. For U.S. based customers, click here to see how. Finally, for international customer that require VAT, please click here.
Connex adds an item called "SalesTax." Can I change the item?
In this example, we will add an item called Florida sales tax:
Login to Connex.
On the left, click rules.
Click my rules.
Click add.
Select start from scratch.
As the action, choose map sales tax item name.
Add FL and shipping state on the next step:
In the map to field, enter Florida Sales Tax.
Finish the wizard.
In QuickBooks, go to lists > item list.
Create a new item of type sales tax item.
Call it Florida Sales Tax.
If I add tax as a line item, why do all the lines say non-taxable?
By default, Connex assumes there is no tax on the order when you map tax as a line item. If you marked the lines as taxable and mapped a taxable item on the bottom right, you would get duplicate tax. Here is an example of duplicate sales tax:

Some of our customers send no tax code to QuickBooks, which causes QuickBooks to use a default tax code. This can be found in the customer record or the sales tax preferences under edit > preferences > sales tax.