Introducing the Connex Match Deposit tool. With this powerful feature, Connex can automatically match up payment information with transactions (orders) already in QuickBooks and create the deposit for you, saving you tons of time!
Reconciling orders with payments and matching deposits can be a time consuming affair. With this powerful feature, Connex can lift that burden off your shoulders by automatically matching up payments information with transactions (orders) already in QuickBooks and create the bank deposit for you, saving you untold amounts of time.
Important:
The Match Deposit Tool requires the Platinum plan or higher.
Compatibility
The Connex Match Deposit tool is currently available with the following integrations:
Amazon

Shopify Payments

Square

Stripe
For additional information regarding available integration features, please .
Setting up the Match Deposit Tool
Connex can locate sales that match a deposit, if the sales are located in the undeposited funds account in QuickBooks (required). Connex can add the fees, the deposit date, and match refunds. If sales are missing, Connex will note them in the log. The match deposit tool can be found within your account and accessed via the left-hand navigation, shown here: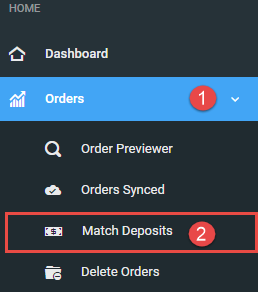 Start by clicking Orders
Next, click Match Deposits
Configuration Wizard
Before Connex can match deposits, we need to do a bit of set up. First, you'll encounter a brief introduction. To proceed, click Next.

Choose Integration
Next, select from the available list with which of your integrations you wish to match deposits. For an integration to appear in the list, it must already be set up with Connex. Once you've chosen, click Submit form.

Set Payout Parameters
Now, it's time to set the payout parameters. In order, start by selecting a period begin (after) date; period end (before) date. Next, select the bank account with which you wish to deposit the funds. Finally, choose a merchant fee or expense account and click Submit.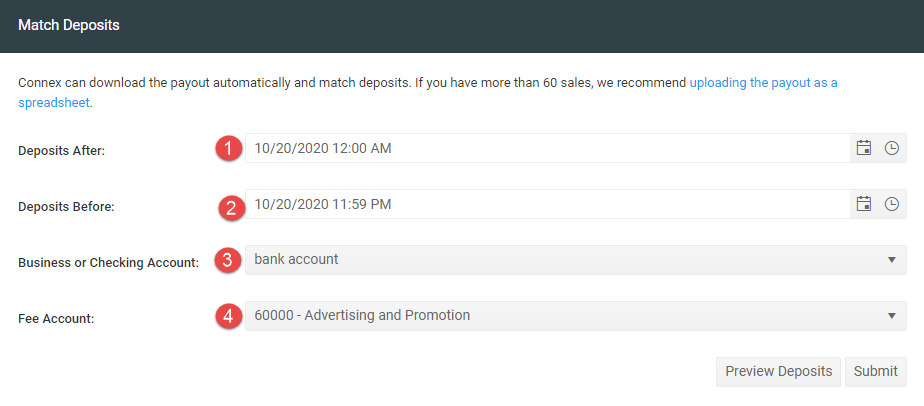 Below, you can preview the found deposits.
Once the form is submitted, for QuickBooks Desktop customers, please run the Web Connector. For QuickBooks Online customers, you're all done - the task will process automatically.
Done!
Is there a demo?
Here is a demo: