There are many reasons why orders are missing. They include the sync not running and a number overlap. Here are some common issues.
Problem
Orders are missing from QuickBooks.
Description
The sale exist in my selling channel, but they are missing from QuickBooks.
Solutions
Check the Connex log
Login to Connex. On the dashboard, you will see your last sync time. If the sync has failed to run in 24 hours, log into QuickBooks as admin. Open your company file. Go to file and click update web services. Check the box to the left of Connex. Click update selected. For more info on ensuring your web connector uses auto run, read this guide.
Sync fails to run
Connex has a log on its dashboard. If the sync did run, check the errors log on the bottom left.
Number overlap
QuickBooks allows you to have multiple orders with the same number. It is possible if you have a number overlap you could get this error:
Invoice XX has a $0 balance. System will skip payment.
Invoice XX could already exist under another customer.
You can enable the next QuickBooks number. This will instruct QuickBooks to assign a unique ID to each sale. For more info, read this guide.
Orders in different customer
Here are the steps to find orders:
Open QuickBooks.
In the top menu, click customers > customer center.
On the left, click the transaction tab.
Click your transaction type, like invoices: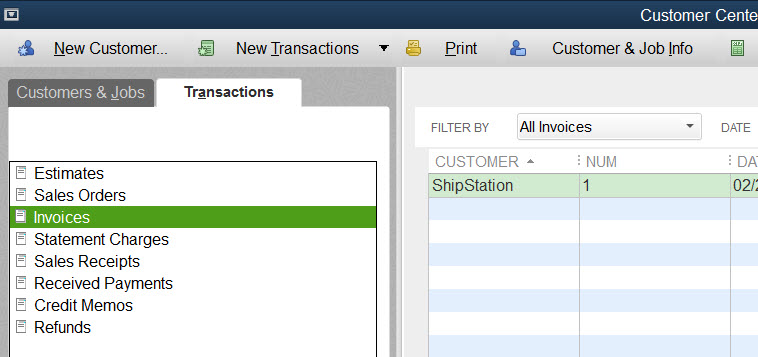 5. Click the number column to sort them by number.
6. Search for your order number.